hallo temen2 mau share plugin buat winamp nih,
lumayan bisa bikin kualitas suara di winamp dari yang biasa menjadi
LUARRR BIASAA!!!
ALREADY TESTED!!
sedikit deskripsi tentang softwarenya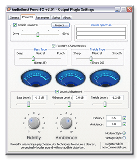 Audioburst PowerFX is a new technology that enhances digital audio by increasing the power output from your speakers, and has been created with help from professional recording engineers. Extensive listening tests have been used to create an outstanding sound enhancement technology like no other.
DOWNLOAD HERE!!
Labels: tools
posted by -• ¦ ¢ h à L •- @ 3/30/2009 08:20:00 PM, , links to this post